Theme: Rising peril: Microbial pathogenesis & Infectious Diseases
Microbial Pathogenesis 2018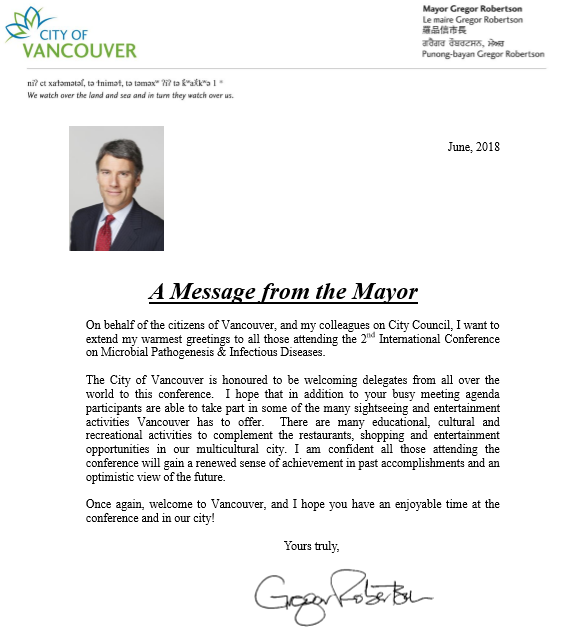 2nd International Conference on Microbial Pathogenesis & Infectious Diseases is scheduled to be held during June 25-26, 2018 at Vancouver, Canada. This Microbial Pathogenesis 2018 anticipates more than 200 participants around the globe with thought provoking Keynote lectures, Oral talks and Poster presentations, Symposia, Workshops, Exhibitions and Career development programs. The attending delegates include Editorial Board Members of related ConferenceSeries Ltd Journals. This is an excellent opportunity for the delegates from Universities and Institutes to interact with the world class Scientists. The intending participants can confirm their participation by registering at Microbial Pathogenesis 2018 along with your colleagues.
Microbial Pathogenesis 2018 is one of the well-established conferences among Microbiology Conferences organized by Conference series LLC Ltd
Conference series LLC Ltd Organizes 3000+ Global Events Every Year across USA, Europe & Asia with support from 1000 more scientific societies and Publishes 700+ Open access journals which contains over 100000 eminent personalities, reputed scientists as editorial board and organizing committee members. The conference series LLC Ltd website will provide you list and details about the conferences organize worldwide.
Why to Attend???
Microbial Pathogenesis 2018 Conference is a multidisciplinary program with broad participation with members from around the globe focused on learning about microbiology research and its advances. This is your best opportunity to reach the largest assemblage of participants from microbiology community that is from academia, microbiology entities, medical groups, labs, related associations, societies and also from government agencies, pharmaceutical, biomedical and medical device industries.. This conference conduct presentations, distribute information, meet with current and potential scientists, make a splash with new clinical research developments, and receive name recognition at this 2-days event. World renowned speakers and the most recent techniques, developments, the newest updates in Microbial Pathology are hallmarks of this conference.
Who Should Attend and Who You'll Meet
Directors/Senior Directors/Executive Directors and Vice Presidents/Senior Vice Presidents/Executive Vice Presidents and Heads/Leaders/Partners of
CROs and CMOs
Microbiology Research Sites
Pharma/Biotech and Medical Device industries
Hospitals, Labs & Associations
Medical Directors, Principal Investigators, Methodologists, and other clinical research professionals along with Academicians: University Faculties like Directors, Senior Professors/Assistant Professors/ Associate Professor, Research Scholars, investors, scientists who are related to Microbial pathology . Pathologists, Doctors, Director and Managers from business organizations.
Benefits of attending Microbial Pathogenesis Conference ?
An opportunity to meet the mentors across the world face-to-face.
Sharing ideas, challenges and plan something interesting for future
B2B Meetings.
To meet the experts in the field of Microbial Pathology.
To share the knowledge with doctors and Scientists.
To gain advance knowledge in Microbial Pathology.
To meet investors from different sector of Healthcare.
To develop collaborations between Acaemic and Business.
Thought provoking talks by Doctors,Professors,PhD's and Young Researchers.
Microbial Pathogenesis 2018 ardently encourages patrons, benefactors, pioneers, and exhibitors from across the world to convene you all to attend and register for the "2nd International Conference on Microbial Pathogenesis & Infectious Diseases (Microbial Pathogenesis 2018) which is going to be venerated from June 25-26, 2018 at Vancouver, Canada.
The organizing committee is endowing for a rather stimulating and illuminative conference programs subsuming Plenary Lectures, Symposia, Workshops on a myriad of topics, Poster Presentations and an assortment of programs for participants from over the globe. We invite you to accompany us at the 2nd Microbial Pathogenesis 2018, where you are assured to have a substantially worthwhile experience with ecumenical scholars. All the representatives of Clinical Microbiology-2017 organizing committee look forward to meet you at the congregation at Vancouver, Canada.
Microbial Pathogenesis is the investigation of the sub-atomic instruments utilized by organisms to cause illness in people and creatures. Bacterial, protozoan, parasitic and viral pathogens have developed a wide assortment of apparatuses to set up themselves in the host and pick up supplements, which likewise cause harm and malady. Different components of pathogenesis incorporate host resistance avoidance. To comprehend the intricate procedures utilized by microbial pathogens, microbiologists utilize every one of the apparatuses of present day sub-atomic science, hereditary qualities, natural chemistry and biophysics. Seeing how organisms cause malady is regularly the initial move toward the improvement of new remedial methodologies.
Pathology: Novel Approaches and Advancements
Advances in genomics and innovative strategies such as reverse vaccinology have changed the concepts and approaches to vaccine candidate selection and design. Genome mining and blind selection of novel antigens provide a novel route to investigate the mechanisms that underpin pathogenesis. Applying genomic approaches to study both the pathogen and host will ultimately increase our fundamental understanding of pathogen biology, mechanisms responsible for the development of protective immunity, and guide next-generation vaccine design. The resulting lists of novel candidates are revealing new aspects of pathogenesis of target organisms, which in turn drives the rational design of optimal vaccine antigens. we illustrate the diversity of regulatory RNAs in bacterial pathogens, their mechanism of action, and how they can be integrated into the regulatory circuits that govern virulence-factor production..
The microbiome involves the greater part of the hereditary material inside a microbiota (the whole gathering of microorganisms in a particular specialty, for example, the human gut). This can likewise be referred to as the metagenome of the microbiota. The microbiome is ecologically obtained when individuals are conceived and quickly develops on the body's surfaces to constitute a fundamentally essential layer of cells. The dominant part of microbial cells occupy the gastrointestinal tract, where they give key administrations to the host, from assimilation of dietary fiber to pathogen avoidance. The creation of microbiomes fluctuates between people in structure and capacity. Practical contrasts can thus affect wellbeing. The microbiome is progressively seen as an objective for restorative mediations for illnesses extending from lack of healthy sustenance to chronic inflammation.
Medical microbiology & Diagnostic Pathology
Medical microbiology is a branch of medical science concerned with the prevention, diagnosis and treatment of infectious diseases. In addition, this field of science studies various clinical applications of microbes for the improvement of health. There are four kinds of microorganisms that cause infectious disease: bacteria, fungi, parasites and viruses, and one type of infectious protein called prion. include the identification of potential health risks to the community or monitoring the evolution of potentially virulent or resistant strains of microbes, educating the community and assisting in the design of health practices. They may also assist in preventing or controlling epidemics and outbreaks of disease. DNA sequencing.
The possible etiologies of infections are diverse; they range from common bacterial and viral pathogens that affect the entire community to opportunistic pathogens that are clinically significant only for immunocompromised hosts. Inflammatory responses are impaired by immunosuppressive therapy, and this results in diminished clinical and radiological findings. Thus, an early diagnosis is much more difficult, but it is the key to successful therapy. Invasive diagnostic procedures are often required Antimicrobial therapies are often more complex in these patients versus other patients because of the urgency of empiric therapy and the frequency of drug toxicity and drug interactions Drug interactions and drug toxicity are common. The initiation or cessation of antimicrobial therapies may alter the levels of calcineurin inhibitors, antifungal agents, and other drugs
Clinical trials of Antibacterial agents
Clinical trials of antibacterial agents differ from other clinical trials in several ways, which combine to make studies in this therapeutic area particularly complex. Infection involves a three-way interaction between the antibacterial agent, the patient and the pathogen causing infection. These interactions affect the approach to the design, analysis and interpretation of results. Efficacy must be assessed in two ways, clinically and microbiologically. In addition, studies of antibacterial agents often include patients with potentially life-threatening conditions, where treatment must commence before the identity and sensitivity of the pathogen(s) is known. This leads to practical problems such as misdiagnoses, inappropriate treatment and inappropriate sampling times.
Antimicrobial resistance & Its Consequences
Antibiotic resistance is a natural phenomenon. When an antibiotic is used, bacteria that can resist that antibiotic have a greater chance of survival than those that are "susceptible." Susceptible bacteria are killed or inhibited by an antibiotic, resulting in a selective pressure for the survival of resistant strains of bacteria.
Some bacteria are naturally resistant to certain types of antibiotics. However, bacteria may also become resistant in two ways: 1) by a genetic mutation or 2) by acquiring resistance from another bacterium.
Use of experimental Antimicrobial, Antifungal & Antiviral agents
Antibacterial and antifungal activities of six plant-derived flavonoids representing two different structural groups were evaluated against standard strains of Escherichia coli, Pseudomonas aeruginosa, Proteus mirabilis, Klebsiella pneumoniae, Acinetobacter baumannii, Staphylococcus aureus, Enterococcus faecalis, Bacillus subtilis and their drug-resistant isolates, as well as fungi (Candida albicans, C. krusei) using the microdilution broth method. Herpes simplex virus Type-1 and Parainfluenza-3 virus were employed for antiviral assessment of the flavonoids using Madin-Darby bovine kidney and Vero cell lines. Ampicillin, gentamycin, ofloxacin, levofloxacin, fluconazole, ketoconazole, acyclovir, and oseltamivir were used as the control agents.
Autopsy is a highly specialized surgical procedure that consists of a thorough examination of a corpse by dissection to determine the cause and manner of death, to evaluate any disease or injury that may be present or research or educational purposes. It is usually performed by a specialized medical doctor called a pathologist. In most cases, a medical examiner or coroner can determine cause of death and only a small portion of deaths require an autopsy.Autopsies are performed for either legal or medical purposes Autopsies can be further classified into cases where external examination suffices, and those where the body is dissected and internal examination is conducted. Once an internal autopsy is complete the body is reconstituted by sewing it back together
The implantation procedure initiates a response to injury, and mechanisms are activated to produce healing.The degree to which the homeostatic mechanisms are perturbed and the extent of pathophysiologic responses and their resolution are measures of the host reactions to the biomaterial, and they may ultimately determine its biocompatibility and its success or failure as a device or prosthesis. Although it is convenient to consider blood-material interactions separately from tissue-material interactions, it should be kept in mind that the mechanisms involved in both sets of interactions involve both blood and tissue. Furthermore, host reactions are tissue dependent, organ dependent, and species dependent. Obviously, the extent of injury varies depending on the implantation procedure.
More than ever before we are facing the threat of new diseases that seemingly erupt out of nowhere. More than 60 percent of all new emerging infectious diseases derive from animal hosts man-made epidemic diseases have all emerged as a result from the destruction of the rainforests, loss of wildlife habitats, and climate change. Emerging infectious disease causes morality rates upwards of 15 million people each year – many victims are children under the age of six. Developing capacity to strengthen and educate teams of scientists to help detect, prevent and control infectious diseases in animals and people Focusing on the early identification of dangerous wildlife pathogens and rapid response to thwart the spread of disease before they become a significant threat to public health ecohealth Early detection and discovery of new viruses ultimately helps inform global public health agencies like the World Health Organizations and education to stop diseases in their tracks.
Infection and Immunity (IAI) provides new insights into the interactions between bacterial, fungal and parasitic pathogens and their hosts. Specific areas of interest include mechanisms of molecular pathogenesis, virulence factors, cellular microbiology, experimental models of infection, host resistance or susceptibility, and the generation of innate and adaptive immune responses. IAI also welcomes studies of the microbiome relating to host-pathogen interactions. The Infection and Immunity Research Network studies the mechanisms that cause and spread disease. From emerging infections, spread around the world by modern travel or by environmental change, to chronic inflammatory conditions that strain the resources of first-world economies to breaking point, research in this area has immediate relevance to diseases that affect us all.
Immunodeficiency disorders prevent your body from fighting infections and diseases. This type of disorder makes it easier for you to catch viruses and bacterial infections.Immunodeficiency disorders are either congenital or acquired. An immunodeficiency disorder disrupts your body's ability to defend itself against these bacteria, virus, cancer cells, parasitesA new study has found a way of manipulating the differentiation of T cells in the immune system so as to strike a balance between pro-inflammatory and anti-inflammatory cells. This discovery may have implications for treating autoimmune diseases and some types of cancer. Autoimmune diseases are triggered when our immune system misidentifies healthy cells as foreign bodies and decides to attack them. In this process, certain cells called "T cells, which are found in the immune system, T cells are of different types and have distinct functions, but their main role is to mediate immune reactions in the body. Some T cells are pro-inflammatory, promoting an immune response, while others are immunosuppressive, regulating the "aggressiveness" of this response. Autoimmune diseases, as well as some types of cancer such as colorectal cancer and lung cancer, are mediated by certain T cell imbalances in the immune system. These imbalances lead either to anomalous inflammations, or to a lack of reaction, wherein the body is unable to identify pathogens. a particular type of T cells called "T helper 17" (Th17) cells. Studies have found that Th17 cells can be unstable, thus sustaining autoimmune diseases and mediating some cancers, which are immunosuppressive.
Communicable/Non Communicable Diseases
In today's globalized world, rapid urbanization, mechanization of the rural economy, and the activities of trans-national food, drink and tobacco corporations are associated with behavioral changes that increase the risk of chronic non-communicable diseases (NCDs). These changes include less healthy diet, lower physical activity, tobacco smoking and increased alcohol consumption. As a result, population health profiles are rapidly changing. For example, the global burden of type 2 diabetes mellitus is expected to double by 2030, with 80% of adult cases occurring in low and middle-income countries (LMIC). Many LMIC are undergoing rapid changes associated with developing high rates of NCD while concomitantly battling high levels of certain communicable diseases, including HIV, TB and malaria. This has population health, health systems and economic implications for these countries. This critical review synthesizes evidence on the overlap and interactions between established communicable and emerging NCD epidemics in LMIC. The review focuses on HIV, TB and malaria and explores the disease-specific interactions with prevalent NCDs in LMIC including diabetes, cardiovascular disease, chronic obstructive pulmonary disease, chronic renal disease, epilepsy and neurocognitive diseases. We highlight the complexity, bi-directionality and heterogeneity of these interactions and discuss the implications for health systems.
Zika: The Next Emerging Threat?
Zika virus is a member of the virus family Flaviviridae and the genus Flavivirus, transmitted by daytime-active Aedes mosquitoes, such as A. aegypti and A. albopictus .The Zika virus causes fever, joint pain, headaches, a rash, conjunctivitis and muscle pain. As with other viruses, it is characterised by spreading via the cells of the body. Both men and women can contract the disease. Flavivirus genomes are between 40 and 60 nm in size. There are over 3000 types of mosquitoes but it is usually the Aedes mosquitoes that spread Zika from one infected person to another. The disease was then later detected in the Aedes mosquito that also lives in the Zika forest .The Zika virus is believed to be endemic in patients in Asia, Africa. As well as these continents, the virus has also now been detected in the Pacific and Americas.
Infectious Diseases, Prevention & Control
Infection is the intrusion of a life form's body tissues by sickness causing operators, their increase, and the response of host tissues to the irresistible specialists and the toxins they produce. Infectious diseases, otherwise called transmissible diseases or transferable diseases, is illness coming about because of a disease.
Diseases are caused by infectious agents including infections, viroids, prions, microscopic organisms, nematodes, for example, parasitic roundworms and pinworms, arthropods, for example, ticks, vermin, bugs, and lice, growths, for example, ringworm, and different macroparasites, for example, tapeworms and different helminths. Hosts can battle contaminations utilizing their resistant framework. Mammalian hosts respond to diseases with an inborn reaction, regularly including irritation, trailed by a versatile response. Specific modulations used to treat contaminations incorporate anti-microbials, antivirals, antifungals, antiprotozoals, and antihelminthics. The branch of solution that spotlights on contaminations is referred to as infectious diseases.Contamination counteractive action and administration is helpful to keep the transmission of irresistible illnesses. Some infectious diseases are frequently prevented by maintaining a strategic distance from coordinate contact with the infectious individual. Contaminations can even be controlled and avoided by making awareness on various infectious diseases and their outbreaks
Cardiac Infections:
Endocarditis is defined by the swelling of the inner lining of the heart. Endocarditis caused by bacterial or fungal attachment and infection by means of developing vegetation, is therefore termed infective endocarditis. Endocardium does not receive a direct blood supply by capillaries or any blood vessels. Blood will usually flow smoothly past the inner linings of the heart, but many things can cause attachment of microbes causing endocarditis. For example, any diseases that cause harm or result in abnormal valves, will allow the microbes that come through to attach more easily.
Renal Infections:
Kidney infection, also known as renal infection or pyelonephritis, is a common type of urinary tract infection. Bacteria often infect the bladder or the urethra and spreads to one of the kidneys. Usually, it starts with a bladder infection that spreads to the kidney. Usually, bacteria called E. coli cause the infection to begin with. Other bacteria can also cause kidney infections.
Sexually transmitted infections:
Sexually transmitted infections (STIs) are also called sexually transmitted diseases, or STDs. STIs are usually spread by having vaginal, oral, or anal sex. An STI is an infection passed from one person to another person through sexual contact. An infection is when a bacteria, virus, or parasite enters and grows in or on body. Some STIs can be cured and some STIs cannot be cured. Women often have more serious health problems from STIs than men
Postnatal infections:
Postpartum infections comprise a wide range of entities that can occur after vaginal and cesarean delivery or during breastfeeding. In addition to trauma sustained during the birth process or cesarean procedure, physiologic changes during pregnancy contribute to the development of postpartum infections. [1] The typical pain that many women feel in the immediate postpartum period also makes it difficult to discern postpartum infection from postpartum pain.
Postpartum patients are frequently discharged within a couple days following delivery. The short period of observation may not afford enough time to exclude evidence of infection prior to discharge from the hospital. In one study, 94% of postpartum infection cases were diagnosed after discharge from the hospital. [2] Postpartum fever is defined as a temperature greater than 38.0°C on any 2 of the first 10 days following delivery exclusive of the first 24 hours. [3] The presence of postpartum fever is generally accepted among clinicians as a sign of infection that must be determined and managed
Prenatal Infections
Prenatal Infections can be very serious and include a host of various ailments. The following are a few of the most common infections that can occur: Salmonellosis, Group B Strep (GBS), Cytomegalovirus, Varicella (Chickenpox), Erythema Infectiosum ("Fifth Disease"), Listeriosis, and Toxoplasmosis
Conference Venue Details:https://pathogenesis.conferenceseries.com/venue-hospitality.php
Find out what you need to visit Canada as a tourist or business person, how to extend your stay in Canada and what documents you need to carry with you to transit through Canada.
E-Apps
This system allows clients to submit applications online.
Delegates/Attendees that need a visa but require their passport for other travel purposes are strongly encouraged to submit their visa applications on-line (e-Apps). Delegates/Attendees that choose to apply on-line will not have to submit their passport until a decision has been taken on their applications. If required, the visa office will send the applicant instructions on how and where to send their passports to finalize the visa process.
Visa Application Centres (VACs):
VACs are commercial service providers authorized by Canada to provide specific services to applicants.
VACs provide a number of services including help applicants fill out forms, answer questions and ensure that applications are complete, thereby reducing unnecessary delays or refusals due to incomplete applications.
Applicants that are required to provide biometrics information as part of the visa application process can do so at a VAC. Additional information on the biometrics requirements is available at the IRCC website.
VACs send applications to Visa Offices and transmit decisions to applicants in a secure and confidential manner. VACs do not process visa applications and play no role in the decision-making process.
Visa Applications Processing Time:
Processing time for visa applications vary depending on the office and the time of the year. Participants should be encouraged to apply early for their visas, and to submit complete applications including all supporting documents.
Please visit the IRCC website for information on the time it takes to process visa applications at the various visa offices.
NEW - Electronic Travel Authorization (eTA)
As of March 15, 2016, visa-exempt foreign nationals are expected to have an Electronic Travel Authorization (eTA) to fly to or transit through Canada. Exceptions include U.S. citizens, and travellers with a valid Canadian visa. Canadian citizens, including dual citizens, and Canadian permanent residents are not eligible to apply for an eTA.
However, from March 15, 2016 until fall 2016, travellers who do not have an eTA can board their flight, as long as they have appropriate travel documents, such as a valid passport. During this time, border services officers can let travellers arriving without an eTA into the country, as long as they meet the other requirements to enter Canada. We invite you to consult the IRCC website regularly for information updates on eTA.
Infectious Diseases Therapeutic Market
The infectious diseases therapeutic market in US is estimated to grow at a rate of 3.37% between 2017- 2022. As per the records, 25% of deaths are mainly due to infectious diseases globally. Current market trend shows that North America has the more global market for infectious diseases therapeutics due to increasing incidence of infectious diseases and due to rise in aging population. Followed by North America highest global market is expected in Asia then followed by the Europe in the global infectious diseases therapeutics market. In Asia-Pacific region, China and India are expected to be the fastest growing infectious diseases therapeutics markets. The main reasons behind the highest global market of infectious diseases therapeutics market in the above countries is mainly due to large number of patients and due to increase in government funding.
Some of the major companies playing a key role in the global infectious diseases therapeutics market are Merck & Co., Pfizer, Johnson & Johnson, F. Hoffmann-La Roche, GlaxoSmithKline Pharmaceutical, Inc., Auritec Pharmaceuticals, Novartis, Achillion Pharmaceuticals, Isis Pharmaceuticals and Gilead Sciences
Worldwide deaths due to Infectious Diseases
Diseases Deaths
· Tetanus 500,000
· Measles 1 million
· HIV/AIDS 1 million
· Hepatitis B 1.1 million
· Malaria 2.1 million
· Diarrhea 3.1 million
· Tuberculosis 4.1 million
· Respiratory Infections 4.4 millions
Infectious Diseases Diagnostics Market
Market for infectious disease molecular diagnostics tests includes hospitals, blood banks, reference laboratories. North America has the highest global market for molecular diagnostics tests followed by Europe due to the market availability of the tests and high occurrence rate of various infectious diseases such as HPV, hepatitis and bacterial infections. Asia Pacific, Latin America and Middle East are expected to be the potential markets in the coming years. Major companies which play a key role in infectious disease molecular diagnostics tests market are Abbott Laboratories, Affymetrix, Inc., Becton, Dickinson and Company, bioMérieux, Cepheid, Inc., Hologic, Inc., Life Technologies, Myriad Genetics, Inc., Qiagen N.V. and others.
Societies and Associations related to Infectious Diseases
1. Healthcare Infection Society
2. European Society for Pediatric Infectious Diseases
3. European Society of Clinical Microbiology and Infectious Diseases
4. Infection Prevention Society
5. British Society for Immunology
6. British Infection Association
7. British Infection Association
8. European Society for pediatric Infectious diseases
9. Health care Infection Society
10. Worldwide societies for infectious diseases is about 150
Universities related to Infectious Diseases
1. University of Cambridge
2. Kings College of London
3. London School of Hygiene and Tropical Medicine
4. Imperial College London
5. UCL Institute of Epidemiology and Health care
6. University of Sheffeild
7. Pediatric Infectious Diseases Society
8. Columbia University
9. University of Maryland
10. Swedish Institute for Infectious Disease Control
11. Uppsala University
12. University of Gothenburg
13. University of Otago
14. Oslo University
15. University of Pittsburgh
To share your views and research, please click here to register for the Conference.
To Collaborate Scientific Professionals around the World
Special Issues
All accepted abstracts will be published in respective Our International Journals.
Abstracts will be provided with Digital Object Identifier by
---
Conference Series LLC LTD Destinations
Conferences By Continents
Americas
Asia-Pacific & Middle East